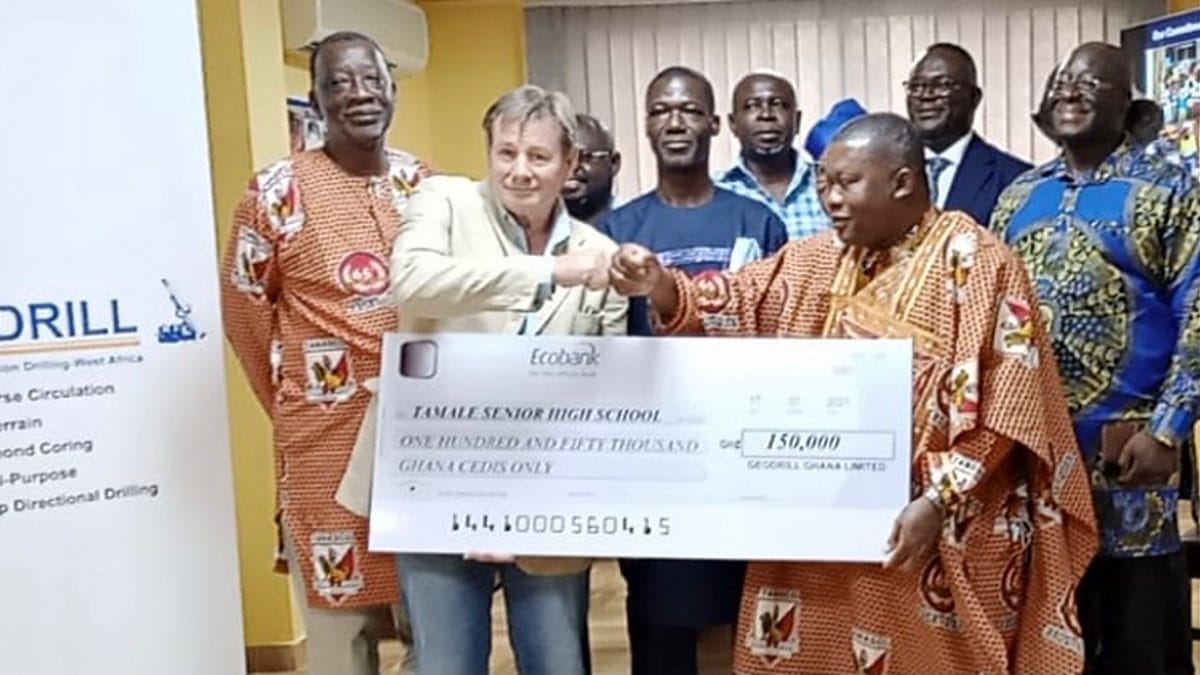 The Managing Director of GEODRILL Ghana Ltd, Mr. Dave Harper in fulfilment of a development pledge on Wednesday, July 21, 2021 presented a cheque amount of GHc150,000 to the Tamale Senior High School (Tamasco).
At a brief ceremony that was held at the GEODRILL head office at the Airport Residential Area, the MD in a short speech said this was in fulfilment of his promise during the launch of the school's 70th anniversary celebrations on June 26, 2021 at Tamale. He said it should be considered as one of his organisation's social responsibility towards providing quality education for the future generations and that he would continue providing help towards the school's future developmental goals.
The cheque was received on behalf of the school by Mr. Bennett Awumee, the President of the Greater Accra Region Old Tamascans Association (OTA).
Also in attendance was a delegation made up of Old Tamascans from the 1973, 1975, 1983 through to 2005 year group who were there to witness the presentation.
The 1983 year group called the 'Survivors' made up the bulk of the year group members present at the ceremony.
Mr. Dave Harper in response advised the students to study and learn hard to achieve success in their future endeavours. The intended purpose of the cash donation is that it will be used for the construction of an ultramodern Home Science block for the Tamale Senior High School to climax the 70th anniversary celebrations.
This will be yet another laudable project deemed to have been facilitated by the 1983 'Survivors' Year Group. Indeed it must also be mentioned that it was through the tireless efforts of Dr. Abdallah Ali Nakyea, a member of the 1983 year group that the donation was facilitated as it's contribution towards the school's developmental projects.
The OTA in appreciation of the kind gesture presented a box of Tamasco/Geodrill branded tea mugs to Mr. Dave Harper and his organisation for making the generous donation.